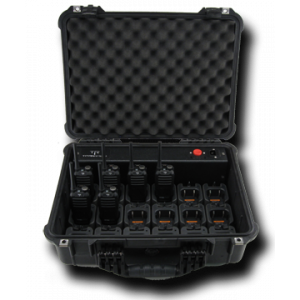 Our TR4X rental package includes 12 handheld radios, a case, a charging station, and speaker mic attachments. Available as a complete kit or ala carte.
The TR4X uses Digital Mobile Radio (DMR) technology to offer the clearest audio quality and greatest range. It's designed to be simple and easy to use. No complicated display or useless buttons.
The TR4X features 32 UHF channels in 2 zones for congestion-free communications. With 4 watts of adjustable power, the TR4X has an outdoor range of 5 miles and an indoor range of 400,000 square feet under typical conditions. It's effective within 1-15 story buildings.